Post by dragnews on Jul 20, 2012 21:33:21 GMT -5
There just seems to be less time in a day as when you were younger, I mean can you remember how long Christmas took to come around each year and now well the stores are all ready setting up displays. Seems just like just 6 months ago I was putting away the tree!......Anyway it's been a long time since we talked and a lot of water has passed under the bridge or whatever that saying means...I apologize for being gone so long but Guyniece and I have been at a drag strip or three every weekend since mid March...So we have a lot of time to make up...First things first, since our last visit we have lost a few of our dear Ardmore Dragway friends, Jerry Mathis who was a long time racer from the Oklahoma City area passed away back in March. Some of you remember his fleet of Fords in the Street Eliminator days, we also lost Darryl Johnston who was for many years teamed up with James Turner before moving out on his own and running the Orange Blossom Special dragster in the late 80's.
Ken McLellan NHRA 71 Super Stock world champion called Ardmore Dragway his home test track back in the 80's passed away last week. And of course all of you knew Alan
better known as the B&S photo man who shot the history of Ardmore Dragway a photo at a time..All these great friends will be missed and we pass our prayers on to the families.
Lets see I lost my place,,Oh yea don't forget to mark your calender for Aug.31-Sept.1 The Ardmore Hot Rod Reunion, making it's 7th year celebration. Not to bad for a one time deal Johnnie and I thought we try just once.
A few weeks back Jackie Stidham and I was down at Northstar dragway for the fuel altered show, and during a little down time a fan walked up to Jackie and was asking him questions about the cars and how he could get started in racing....Jackie replied I started racing at a track in Oklahoma City called Stars & Stripes, I would drive my Chevrolet from Chickasha every weekend.
Now this is were the story gets good especially if your from the older generation and and can relate..
(I would jack up the car with a floor jack I carried with a small metal tackle box full of tools in the trunk . Change rear street tires and put on the racing slicks disconnect the mufflers, roll all this stuff up against the fence, race all day come back to my stuff that no one ever bothered with, mount the street tires back on the rear, cap the headers and drive home).....The look on this guys face! Jackie could have been giving him some chemical atomic structure breakdown and I think he would have understood it better...All I kept thinking going through this kids mind was, you didn't have a stacker with three cars in it? Yep we've come along ways...Maybe not all ways for the better but a long way.
And then there is the once what was old is now new again as we say in Nostalgia racing . I want to share a couple of photo's of Guyniece and I on the road traveling with Ronny Young..We have been on a life time ride from coast to coast and back again in less than a year. Sometimes when we fly into a airport such as Vegas or Philly I can relate to the Hillbillies driving into Beverly Hills for the first time. The looks we get at the airport makes me think people think we kinda fit that image, anyway.
Below Guyniece is doing the laundry on the Blue Max and and the next photo well that's me....Nuff said.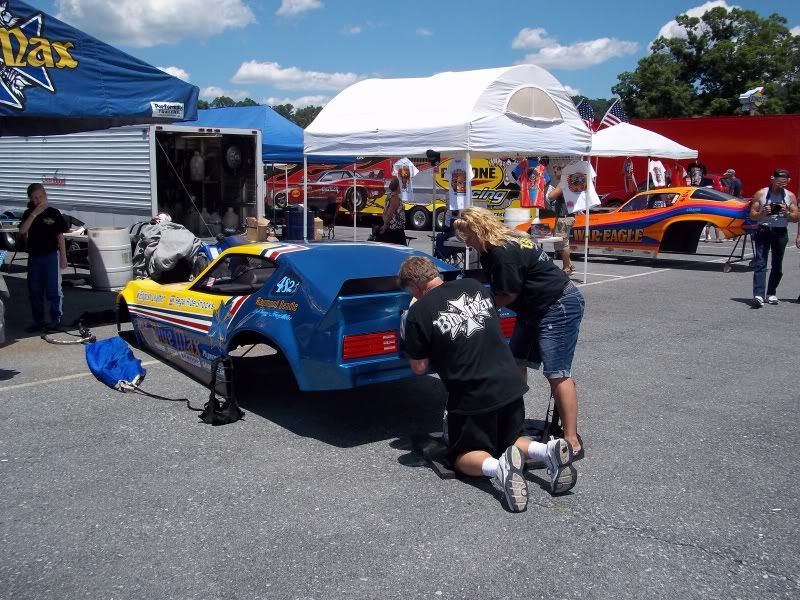 Well I better get back to work before Rick Carrell finds out I been having fun and he fires me. Lots to do to prepare for the reunion and this years Cowpasture Nationals, Oh Lordy the Cow is 40 this year, make your plans today it will be athe biggest yet. Take care, I promise less talk and more history next time. See you in the staging lanes.....Rob